BE A DRIVER TRAINER WITH ONE OF NORTH AMERICA'S 20, "BEST FLEETS TO DRIVE FOR." DON'T FOLLOW THE PACK, LEAD IT!
Being a Driver Trainer is not easy, but it is rewarding. Being a Driver Trainer with Keller means you're a serious Professional who's committed to safety and doing the right thing. You can take peace in knowing that you are developing the workforce of tomorrow and making the roadways safer, all while earning a great paycheck.
As a Professional Driver Trainer you will be helping our Finishing Program entrants apply what they have learned in school. You will be with them, over-the-road, on their 8,500-mile journey of real-world application, making them feel more confident and comfortable in the truck throughout it. For more information on this role please give us a call at 419.785.3252.
---
AS A PROFESSIONAL DRIVER TRAINER WITH KELLER YOU CAN ALSO EXPECT:
Pay of $325.00/Day based on 'On Duty' status
Retention bonus of $25.00/day for every day trained once trainee reaches 45 and 90 days solo
$55.00/month cell phone reimbursement
Home most weekends (Out 5-6 days/week)
To be training, and training only. We do not team
New, well-maintained equipment
To have a consistent flow of trainees
XM Radio
Samsung tablets with unlimited data
Exceptional maintenance team that will keep you moving
9 times out of 10, you know next dispatch before empty
3-day paid orientation
Paid vacation / 6 paid holidays
Full range of benefits starting after 30 days
Six year "Best Fleets to Drive For," award recipients (2018-2023)
REQUIREMENTS:
1-year of verifiable, Class-A CDL Tractor Trailer driving experience
No DUI/DWI or any other alcohol related convictions in the last 5 years
Must be able to pass a D.O.T. Physical and Hair Follicle Drug Screen
JOIN THE EXCLUSIVE GROUP OF KELLER PROFESSIONAL DRIVER TRAINERS TODAY.
QUICK APP
OR
APPLY NOW
Being a Professional Driver Trainer with Keller is a pretty good gig, but don't take our word for it. Hear what some of our Trainers have to say.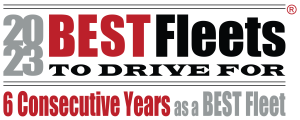 Home » Truck Driving Jobs »