MORE HOME TIME THAN ANY OTHER POSITION. DRIVE LOCAL FOUR ON – FOUR OFF WITH KELLER!
In the constant pursuit of innovation and a healthy work-life balance, we are happy to announce our newest position of Local Truck Driver Four On – Four Off! As a spin-off of our Regional Four – Four, this Local position will allow drivers to be off four full days a week AND home every night during the four days they are working! Drive for one of only 20 North American companies awarded, "Best Fleets to Drive For," six years in a row!
We realize how difficult it can be at times to maximize your earnings as a Local Four On – Four Off driver with strictly mileage pay. There is a lot of stopping, starting, dropping, hooking and in some cases, detention. That is why we focus on accessorial and bonus pay structures in addition to mileage pay! We want to make sure you're compensated for everything else that takes time off your clock throughout your four days of driving. Under our updated pay structure Local Four – Four drivers can expect to gross anywhere from $42,000 to $58,000 annually while being home four full days in an eight day cycle! See the components and how it all adds up below!
AS A LOCAL FOUR ON – FOUR OFF TRUCK DRIVER FOR KELLER YOU CAN ALSO EXPECT:
Work four days a week, off the next four (Rolling work schedule)
Home every night during your four days on
1,000 – 1,800 miles per week
Opportunity for hourly spotter/shuttle fill-in work on weekends
Pay per mile (Rate based on driving experience)
Clean equipment – 3 years or newer Freightliner and Volvo day cabs
XM Radio
Samsung tablets with unlimited data
The best maintenance crew
Generous time-off policy
Predictable freight mix
Full benefits after 30 days
Friendly, respectful office staff
Cutting edge, proactive Wellness Program
Low driver turnover rate
Driver Referral Bonus

$1,500 for experienced
$750 for students

Six year "Best Fleets to Drive For," award recipients (2018-2023)
REQUIREMENTS:
Valid Class-A CDL
12 Months verifiable Class-A CDL driving experience
Must start and finish in Defiance, Ohio during your four day schedule
No DUI/DWI or any other alcohol related convictions in the last 5 years
Must be able to pass a D.O.T. Physical and Hair Follicle Drug Screen
Give us a call at 419.785.3252 to discuss this position further or apply below and we will reach out to you!
OR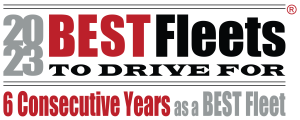 Home » Truck Driving Jobs »