BE YOUR OWN BOSS AS AN OWNER OPERATOR WITH KELLER!
We are one of the 20 for-hire North American companies awarded "Best Fleets to Drive For," six years in a row. At Keller, we respect our drivers and know each and every one of them by name. We're a small, family-owned company based in Defiance, OH and we're now hiring Owner Operators!
AS AN OWNER OPERATOR FOR KELLER YOU CAN EXPECT;
To run under Keller Trucking's Authority
Our goal is make you a successful business owner while providing additional capacity to our customers
Pay is 72% of Total Revenue of load – As our rates rise, so do yours!
Consistent routes
Consistent home time
Lease Purchase Programs (New and used available)
Dedicated Dispatcher (No Forced Dispatch)
Large fuel discounts
Six year "Best Fleets to Drive For," award recipients (2018-2023)
OWNER OP REQUIREMENTS;
The truck must pass DOT inspection and be ELD compliant
$1,500 deposit ($50/week payment option is offered)
Must provide most recent inspection report
Commercial plate (We can provide if needed)
Bobtail insurance with $35,000 trailer policy (We can assist)
Occupational accident insurance or workers comp (We can assist)
Current IFTA stickers and account (We can assist)

Quarterly IFTA reports will be sent to you to file (We can assist)
HOW DO WE ASSIST WITH REQUIREMENTS?
We can provide all of the things listed below for a fixed, weekly cost.
Deposit payment plan of $50.00/week for 30 weeks if you choose
Permits & plates ($50.00/week)
Bobtail insurance (Rate based on truck and experience)
Occupational accident insurance (We have four plans to choose from)
ELD/Camera/Drivewyze ($15.73/week)
(Optional) Maintenance escrow ($0.10-0.15/mile)
* Deposit covers equipment provided by us. Once the equipment is returned, your deposit is returned to you!
FOR MORE INFORMATION ON BEING AN OWNER OPERATOR WITH KELLER TRUCKING CALL ADAM AT 419.980.4883 OR APPLY NOW!
(Be sure to select "Owner Operator," in the "Position Applying For" section of the application)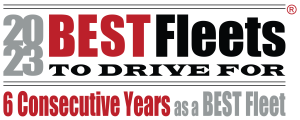 Home » Truck Driving Jobs »