ENJOY MAXIMUM HOME TIME AS A FOUR–THREE FLEX TRUCK DRIVER FOR KELLER!
Want to work four days a week or less and still make over $50,000? Well, look no further. This Four-Three Flex position is designed for those looking to for both MAXIMUM weekly home time and full-time Regional Truck Driver pay/benefits. This position offers more home time than any of our other driving positions. You'll enjoy all the same equipment and perks as our Regional Truck Drivers and a set, weekly three or four day driving work schedule.
Despite only working half the year, company Four-Three Flex Truck Drivers enjoy access to comprehensive health benefit offerings including medical, dental and vision as well as life insurance, 401K and paid vacation. Furthermore, we'll still maximize your earnings during your days worked with our accessorial pay, guaranteed daily minimums, and bonus pay structures! Experienced Four–Three Flex drivers can expect to gross anywhere from $45,000 to $52,000 annually while being home a full 182 days a year! See the components and how it all adds up below!

HERE'S HOW IT WORKS:
Pick your days!
Driver A (Blue): Leaves out Sunday every week and returns home either Wednesday or Tuesday night.
Driver B (Gray): Leaves either Wednesday or Thursday of every week and returns home every Saturday.
AS A FOUR-THREE FLEX TRUCK DRIVER FOR KELLER YOU CAN ALSO EXPECT:
A set, consistent four day or three day work week every single week
$200.00 daily guaranteed pay minimum. This is the absolute least you'd make in a day
Estimated 1,900 – 2,300 miles per week
Expect to slip-seat trucks
Opportunity for hourly/mileage fill-in work depending on area
Annual pay increases
XM radio
Samsung tablets with unlimited data
9 times out of 10, you know your next dispatch before empty
Newer, well-maintained equipment
Exceptional maintenance team that will keep you moving
EZ-PASS, I-PASS, and Pre-Pass
3-day paid orientation
Paid vacation / 6 paid holidays
Full range of benefits starting after 30 days
PC Miler practical routing
Year-Round Passenger policy
$750.00-$1,500.00 Driver Referral Bonus
Six year "Best Fleets to Drive For," award recipients (2018-2023)
REQUIREMENTS:
Class A CDL or desire to attend a CDL School
No DUI/DWI or any other alcohol related convictions in the last 5 years
Must be able to pass a D.O.T. Physical and Hair Follicle Drug Screen
Must be willing to travel to our HQ in DEFIANCE, OHIO to start your week. For those outside commute range, bring a buddy! Have a fellow CDL-A driver in your area that would be willing to slip-seat truck with you. (Ask about the referral bonus!)
Not quite ready to apply because you have more questions or concerns about this position? Wondering if you'd be a good fit for it? Fill out the form below and we'll have recruiting reach out to you with more information!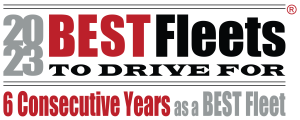 Home »