ENJOY MORE HOME TIME AS A SEMI-REGIONAL TRUCK DRIVER WITH KELLER!
If you're looking for a truck driving job that gives you consistent home time with great pay and benefits, then this is the job for you. Thanks to our steady, predictable freight mix and dedicated Operations team, we were able to create a truck driving job that gets you home every single weekend. You'll enjoy all of the same equipment, technology and pay as our Regional drivers. Our ability to get our drivers home is one of the many reasons we've been named TCA, "Best Fleets to Drive For," six years in a row.
Company Semi-Regional Truck Drivers enjoy access to comprehensive health benefit offerings including medical, dental and vision as well as life insurance, 401K and paid vacation. We've also updated our Semi-Regional pay structure! We will still put the miles in front of you, but we also want to make sure you're compensated for everything else that takes time off your clock throughout the day. Under our updated pay structure, experienced Regional drivers can expect to gross anywhere from $58,000 to $68,000 annually while being home every weekend! See the components and how it all adds up below!

AS A SEMI-REGIONAL TRUCK DRIVER FOR KELLER YOU CAN ALSO EXPECT:
To be home two full days every single week
Run 5 days, Sunday – Thursday, and be home EVERY Friday and Saturday
Ask about other scheduling options
Additional flexible scheduling options available
2,200 – 2,900 miles per week
Productivity bonuses
Driver Referral Bonus

$1,500 for Experienced
$750 for Students/Entry Level

Annual pay increases
XM Radio
Samsung tablets with unlimited data
9 times out of 10, you know your next dispatch before empty
Exceptional maintenance team that will keep you moving
EZ-PASS, I-PASS, and Pre -Pass
Pet and rider policies
3-day paid orientation
Paid vacation / 6 paid holidays
Full range of benefits starting after 30 days
PC Miler practical routing
Year-Round Passenger policy
Six year "Best Fleets to Drive For," award recipients (2018-2023)
REQUIREMENTS:
Class A CDL or desire to attend a CDL School
No DUI/DWI or any other alcohol related convictions in the last 5 years
Must be able to pass a D.O.T. Physical and Hair Follicle Drug Screen
OR
Oh yeah, and no East coast! Check out our OPERATIONS AREA!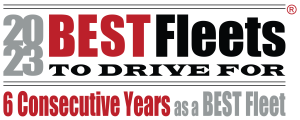 Home »