Go through our truck driving school and start a career in a steady, high-paying industry!
This program is designed to help individuals get their Class A CDL. Keller will cover the cost of schooling as long as you qualify. Trainco in Perrysburg, Ohio will administer the class.
TIMELINE:
This truck driving school is a total of two weeks. During that time, you will acquire skills in maneuvering, cornering, backing, and parking through a variety of urban and rural environments. Completion of this program will set you up for success to test for your Class A CDL.
WHAT STEPS DO I NEED TO TAKE TO GET ENROLLED?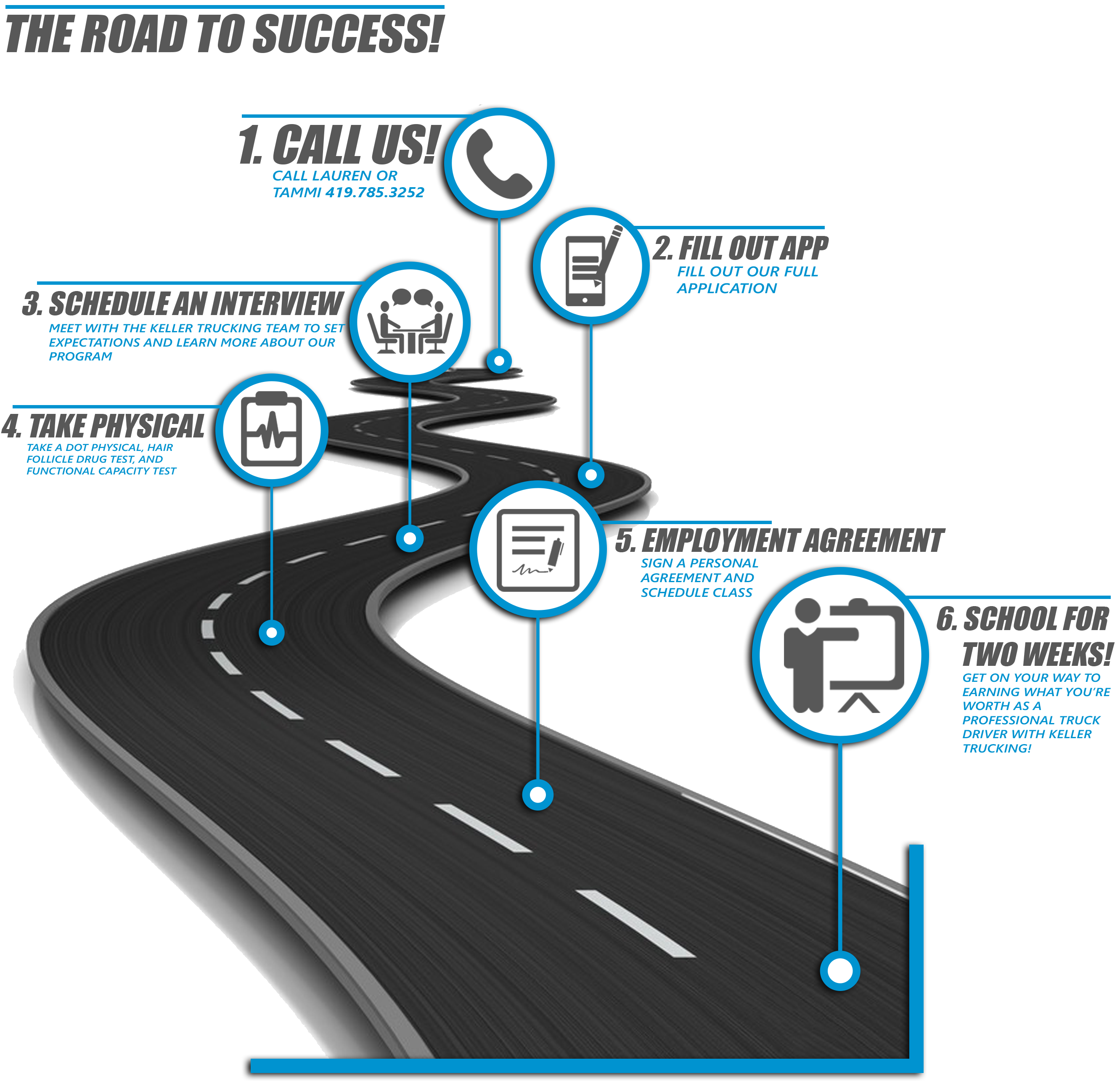 WHAT'S NEXT AFTER MY TWO WEEKS OF TRUCK DRIVING SCHOOL?
After completing truck driving school and officially getting your CDL, you will start orientation in Defiance, OH. From there, you will be with a Driver Trainer for 10,000 miles (Approximately 5 weeks). Please click HERE to read more about our Finishing Program!
PLEASE NOTE:
You must get your CDL Permit before starting class. If you would like to take the one-week Permit class prior to starting your 2 week course, you would be responsible for that additional fee. (You will need to present your birth certificate and social security card at BMV).
The 2 week course is an Automatic Transmission course. If you would like to take the Manual course and not have that restriction on your license, class will be an additional week and you will be responsible for that additional fee.
The personal agreement is a commitment between you and Keller that you will work for us for at least 6 months. If you decide to end employment prior to the 6 month mark, you must pay back the cost of schooling at a prorated amount.
REQUIREMENTS:
No DUI/DWI or any other alcohol related convictions in the last 5 years
Safe Driving Record
Must be able to pass a D.O.T. Physical, Hair Follicle Drug Screen, and Functional Capacity Test
OR
Home »