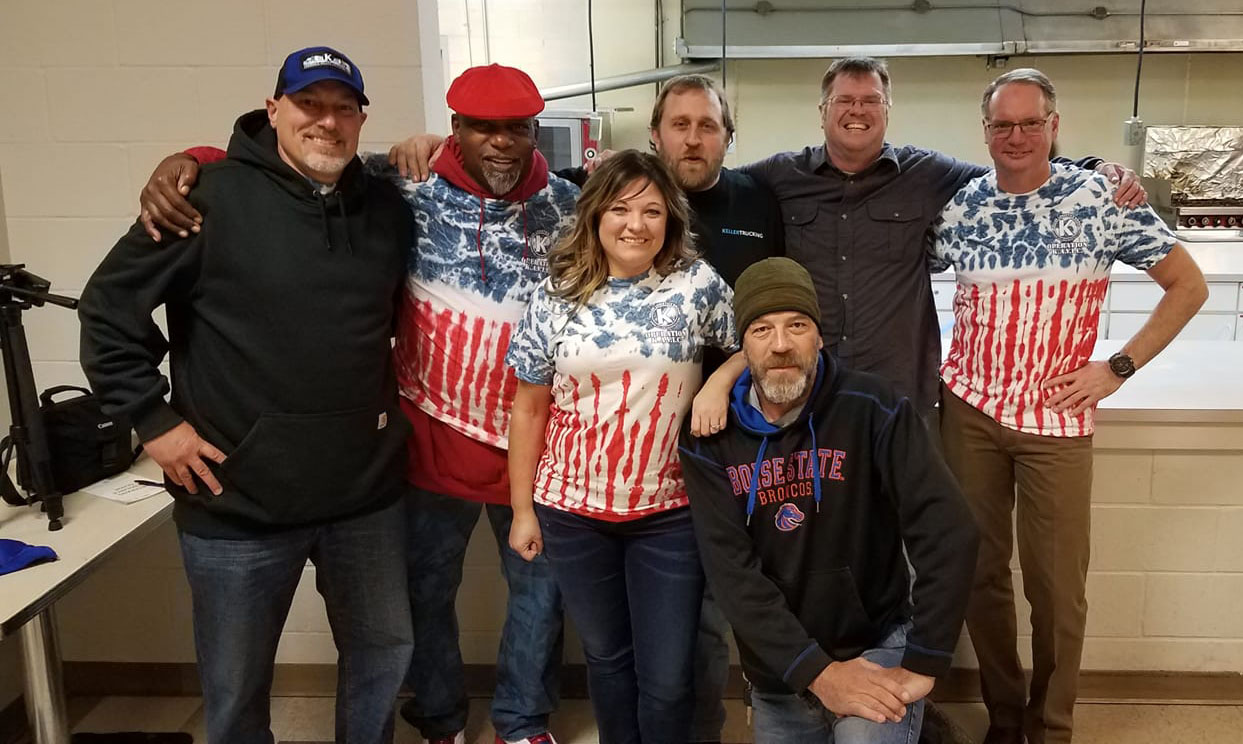 Appreciation Dinner and Event
Keller Logistics Group hosted the 5th Annual Veterans Appreciation Dinner on Thursday, November 7th in Defiance, Ohio. This annual event provides veterans and their families in Defiance County a free dinner and access to veterans' support organizations in an open house setting. Formerly, throughout the year, Keller Logistics Group asks businesses in Defiance County, business partners, and local residents to sponsor the event. The event sponsorships fund 100% the Operation K.A.V.I.C. (Keller Assists Veterans In Crisis) program for the upcoming year.
This year, Keller Logistics Group was able to present the Defiance County Veterans Office and Ravens Care of Defiance with a check for $76,701.18. This check subsequently funds the needs presented to Operation K.A.V.I.C. in 2020. Since the inception of the program in 2015, Keller Logistics Group has raised over $273,159 for veterans and their families in Defiance County. Moreover, from December 2015 – October 2018, the program has assisted 524 veteran families in the amount of $185,535.89. In 2019, 140 families have received assistance in the amount of $51,573.89.
Operation K.A.V.I.C. Presentation
In Bryan's presentation of the funds raised, he stated, "We created Operation K.A.V.I.C. to provide assistance to veterans without the limitations of other (veterans) programs… This program can help with anything from rent payment, to medical bills, to car repairs, to legal bills, for food, funerals and transportation. If you can think of it, we probably have paid for it." Therefore, what makes it unique is that it supports the veteran's entire family, which includes surviving spouses. Additionally, it is open to all Active Duty, Reservists, Veterans, and National Guard members that reside in Defiance County, Ohio.
During his presentation, Bryan told a story about someone who received assistance through the program. "An older widow needed a new front door. Her current door was hanging by its hinges and was letting the cold November air in. Between Operation K.A.V.I.C., VA funds, and another anonymous donor, a new front door was installed. This lady was so grateful! She said it was the best Christmas present that she had been given, not the door, but knowing that other people cared about her."
Operation K.A.V.I.C. Sponsors and Ceremony
Tayna Brunner from the Defiance County Veterans Office stated, "I wish they [sponsors] could see the relief on that person's face when they know they are not alone. That they know their service counted for something in such a tangible way. This has been a Godsend for our office." Bryan acknowledged all of this years' sponsors during his presentation.
Presidents Level ($3,000):
Clemens
Korhn
Liming
Warncke
MW Solutions
Stoops Freightliner
General Level ($2,500):
First Federal Bank
Double A Trailer
Supply Chain Real Estate
He also made special mention of local businesses and organizations; Knights of Columbus donated the hall, Jacob's Meats prepared the meal, Kirchers Flowers donated centerpieces, the students of Holy Cross Catholic School donated the decorated table cloths, a local Boy Scout troop helped serve the dinner, and many individuals that donated a variety of desserts.
Twenty Korean War veterans in attendance were recognized for their service and given a Korean War memorial challenge coin. During their recognition, Bryan stated, "The Korean War started June 25, 1950. It was among the most destructive conflicts of the modern era with approximately 3 million war fatalities. It had a larger proportional civilian death toll than World War II or the Vietnam War." Bryan presented a Korean War challenge coin to a veteran at the 5th Annual Veterans Appreciation Dinner in support of Operation K.A.V.I.C. In conclusion, every year more veterans and their families become aware of the Operation K.A.V.I.C. fund; consequently creating a continued need to increase the funds raised.