Go through our truck driving academy and start a career in a steady, high-paying industry!
Our approach is that real-world experience is oftentimes better than classroom. That is why we designed our program to contain a quality balance of both. Classroom will teach you the fundamentals, and the range or on the road with our experienced trainers will teach application. Classes are small so you will be guaranteed the "behind-the-wheel" time that you need to feel comfortable and begin your professional trucking career. Our current three-to-one student to trainer ratio allows for frequent individual instruction, and individual instruction means that you get quick answers and valuable driving experience.
TIMELINE:
Our truck driving academy is a total of two weeks. During that time you will recieve a mixture of both classroom and range training. You will learn and acquire skills in maneuvering, cornering, backing, and parking through a variety of urban and rural environments. Completion of this program will set you up for success to test for your Class-A CDL! See below for the steps in the road to success with Keller!
WHAT STEPS DO I NEED TO TAKE TO GET ENROLLED?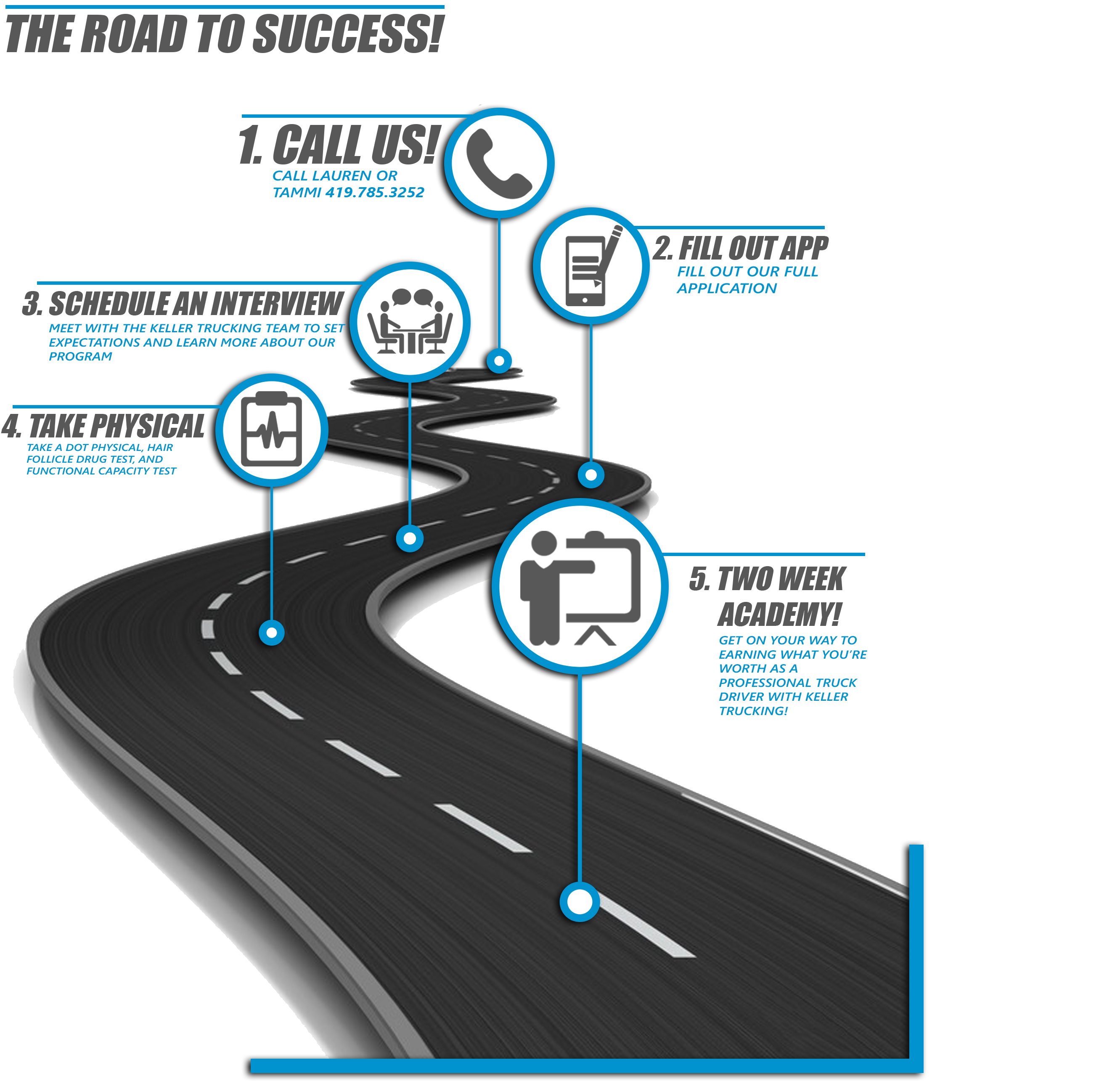 WHAT'S NEXT AFTER MY TWO WEEKS OF TRUCK DRIVING ACADEMY?
After completing our truck driving academy and officially getting your CDL, you will start orientation in Defiance, OH as an official Keller Trucking employee! From there, you will be with a Driver Trainer for 10,000 miles (Approximately 5 weeks). Please click HERE to read more about our Finishing Program!
PLEASE NOTE:
*You must get your CDL Permit before starting our academy. (You will need to present your birth certificate and social security card at BMV).
REQUIREMENTS:
No DUI/DWI or any other alcohol related convictions in the last 5 years
Safe Driving Record
Must be able to pass a D.O.T. Physical, Hair Follicle Drug Screen, and Functional Capacity Test
OR
Home »