This year, September 13th – 19th marks the National Truck Driver Appreciation week. Recognition and an effort to give thanks this year is of special significance considering the crucial role truck drivers have played during the COVID-19 pandemic. While the hustle and bustle of daily life has slowed or come to a halt in some cases, many of the things we still need to do would be difficult or impossible without truck drivers.
Over 3.5 million hardworking professional men and women across the country deliver our goods safely, securely and on time while keeping our highways safe. Of the 3.5 million drivers out there, we have 219 of them to thank. So, what are we doing this year?
In our 42 years of operation, we've never been a trucking company that limits our driver appreciation to a singular week in September. Instead, during National Truck Driver Appreciation Week we aim to go above and beyond what we already do throughout the year.
Stay Metrics Perks Points
Our drivers are typically awarded Stay Metrics points throughout the year for a variety of things. Answering survey questions, providing feedback, violation free inspections and much more. Points accumulate and can then be used on an, "Amazon-esque," site to purchase anything from golf clubs to ocean cruises. Every year during National Truck Driver Appreciation week we award a hefty, four-digit, amount of points. It's one of our many ways of saying thanks and helping to enhance our drivers' quality of life outside of driving.
Truck Driver Appreciation Week T-Shirt
Who doesn't love a free T-shirt, right? We know our drivers love free Keller apparel. Our Graphic Designer over the last few years has drawn up custom T-Shirt designs for Driver Appreciation Week. This year, we elected to go with a high visibility orange shirt and a patriotic Keller Trucking design.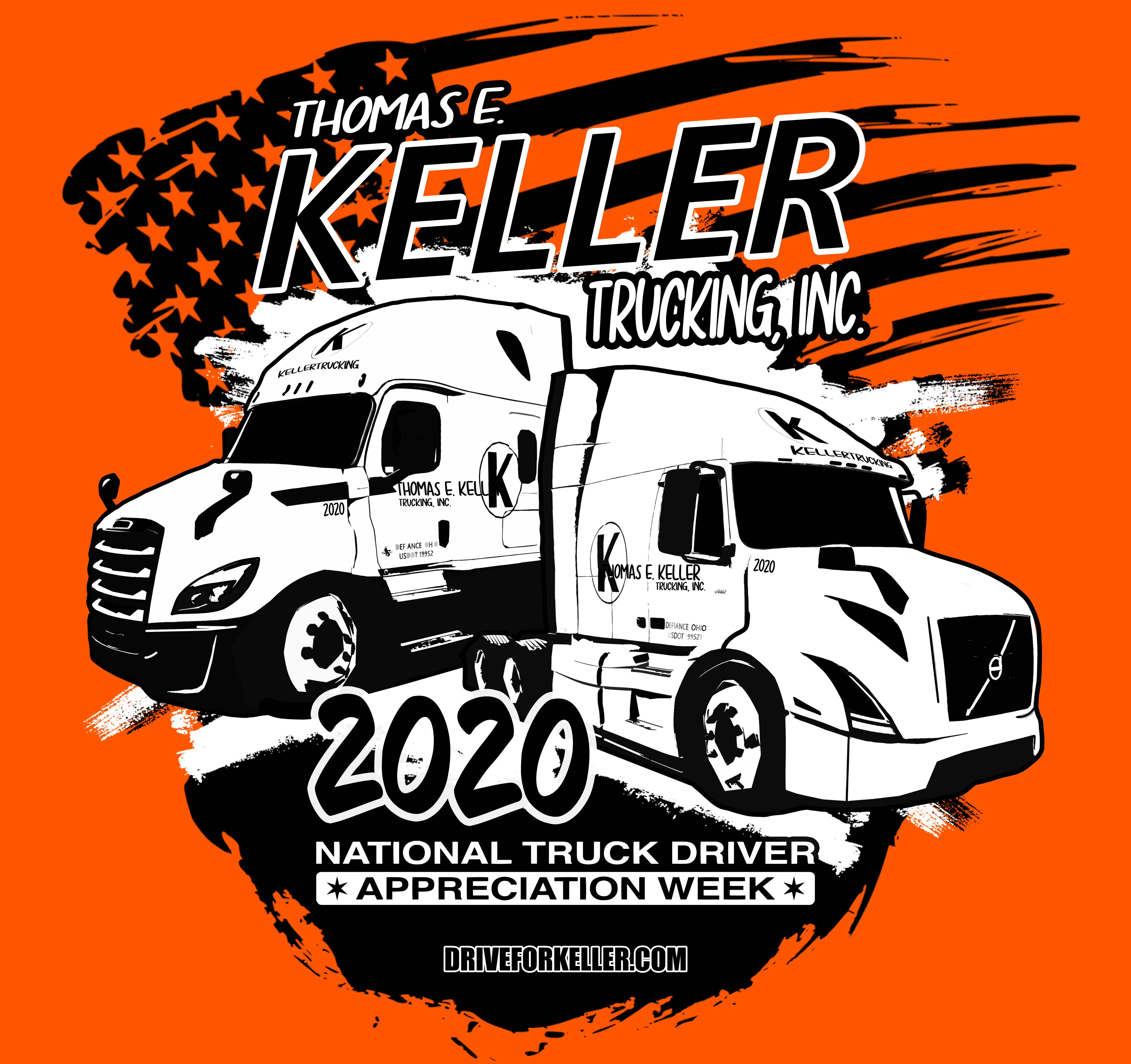 Seven Days of Giveaways
COVID-19 threw a damper on our annual Driver Appreciation cookout, so we went a different direction. A prize list was sent out to every driver. They were then able to respond with the prize they would like to be entered for through fleet message. We will then compile the list and select a winner for each towards the end of the week. We didn't mess around this year either. Some of the prizes offered this year are:
Yeti Roadie Cooler
One-year subscription to Netflix
Dyson cordless hand vacuum
Hi-Vis winter jacket with Keller logo
Blackstone 17″ table-top griddle station
Gift cards to various restaurants
We realize that tangible items aren't the only way to thank and appreciate drivers. Communication, recognizing good work and company benefits are also forms of expected appreciation. National Truck Driver Appreciation Week is simply an opportunity for us to merge all these things and take it one step further. If you'd like to drive for a company that appreciates and recognizes their hard work and sacrifice, then give us a call at 419.785.3252 or check out our current driving positions!